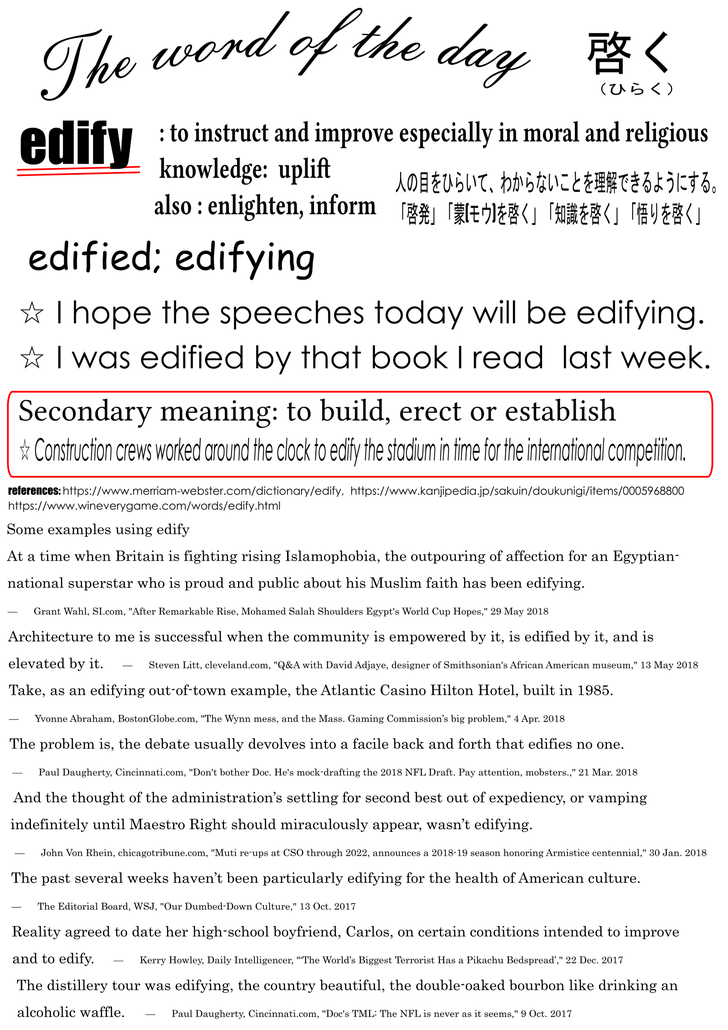 Today at Toast Masters I was the Word master and pur up the word of the day.
I was impressed alot of people used the word in thyeir speeches and introductions .
I was happy to see that it was easy to use for the Japanese members. 
Some examples using edify
At a time when Britain is fighting rising Islamophobia, the outpouring of affection for an Egyptian-
national superstar who is proud and public about his Muslim faith has been edifying.     
—      Grant Wahl, SI.com, "After Remarkable Rise, Mohamed Salah Shoulders Egypt's World Cup Hopes," 29 May 2018      
Architecture to me is successful when the community is empowered by it, is edified by it, and is 
elevated by it.     —      Steven Litt, cleveland.com, "Q&A with David Adjaye, designer of Smithsonian's African American museum," 13 May 2018     
Take, as an edifying out-of-town example, the Atlantic Casino Hilton Hotel, built in 1985.     
—      Yvonne Abraham, BostonGlobe.com, "The Wynn mess, and the Mass. Gaming Commission's big problem," 4 Apr. 2018      
The problem is, the debate usually devolves into a facile back and forth that edifies no one.  
 —      Paul Daugherty, Cincinnati.com, "Don't bother Doc. He's mock-drafting the 2018 NFL Draft. Pay attention, mobsters.," 21 Mar. 2018     
 And the thought of the administration's settling for second best out of expediency, or vamping 
indefinitely until Maestro Right should miraculously appear, wasn't edifying.    
 —      John Von Rhein, chicagotribune.com, "Muti re-ups at CSO through 2022, announces a 2018-19 season honoring Armistice centennial," 30 Jan. 2018      
The past several weeks haven't been particularly edifying for the health of American culture.     
—      The Editorial Board, WSJ, "Our Dumbed-Down Culture," 13 Oct. 2017     
Reality agreed to date her high-school boyfriend, Carlos, on certain conditions intended to improve 
and to edify.     —      Kerry Howley, Daily Intelligencer, "'The World's Biggest Terrorist Has a Pikachu Bedspread'," 22 Dec. 2017     
 The distillery tour was edifying, the country beautiful, the double-oaked bourbon like drinking an
 alcoholic waffle.     —      Paul Daugherty, Cincinnati.com, "Doc's TML: The NFL is never as it seems," 9 Oct. 2017