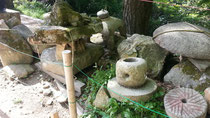 20th
*cleaning the mold
*I can't take it off
*cloth
*furniture
*how long is your exam for?
*reunion
*polytechnic, TAFE ( Queensland version)
*home economics
*second day
*ruff
*Industrial
*what did you do on the weekend?
*last Saturday I went to the movies with my family
*we went to see Frozen
*I want to see
*translated
*I wanted to see it in 3D
*was it entertaining
*Winter's a good time to stay in and cuddle
But put me in summer and I'll be a happy snowman ( should be puddle, I'll be a puddle)

*any plans for Saturday and Sunday

*sold

*this is the second time for a workshop

*I didn't sell anything yesterday

*how many people came yesterday?

*how much does it cost to do the workshop?

*It gets split between the members

*pocket money

*jewelry only

*husband

*city office

*agriculture

*farmer

*land owner

*try new things

*kindergarten

*feel sorry

*unusual names

*sentences

*I understand

*getting fat

*he should speak English

*can't get a job

*Ferris wheel

*I didn't ride it but they rode it

*enough

*Infographic

*diarrhoea

*pro-biotic

*parents day

22nd

*the main organizer
*preparation time
*confusing
*new systems
*others were interested in the seminars
*helping them was difficult
*difficult to understand
*finally
*I don't want to be a manager
*can't be a manager
*classes
*second grade
*passed
*did you pass?
*all together it was five hundred points, and i got four hundred and eighty three
*I didn't give a good answer
*explanation
*pine cone
*no wind
*experiment
*so i didn't mention the wind in my answer
*jewelry
*I made five pieces
*salon
*take some jewelry to a salon
*maybe sell some
I want him them to sell my jewelry
*hair salon
*her dream is to be a beautician
*she leaves for Namba
*the school starts at nine
*she can practise from eight o'clock
*my sons dream is to play games
*after he studies he can play games
*he is getting better results
*if his results go down he's not allowed to play games
*incentive to study
*work to make money so he can buy games
*earn money
*track and field
*athletics
*shot put
*thick
*to lose weight
*everyday
*after school running
*his girlfriend wants to be in the Olympics
*sprints
*the Olympics are in two thousand twenty
*what are you going to do on the weekend?
*parents day
*watching a demonstration